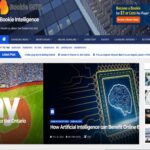 Long Business Description
The most reliable news source for the bookie industry worldwide is bookieIntel.com. For bookmakers and anybody working in the gaming industry, Bookie Intelligence offers the most recent sports and gambling news. Their team of sports analysts and sports betting professionals at Bookie Intelligence will give you, the most recent bookie intel thanks to their decades of combined experience in both industry.
The most recent online sports news, bookmaker industry breakthroughs, and trends will always be available to users of BookieINTEL.com. You can read everything here, including business news, legal issues, software and sports betting technology, and any news pertaining to sports betting.