Easy Pay Per Head Bookie PPH Service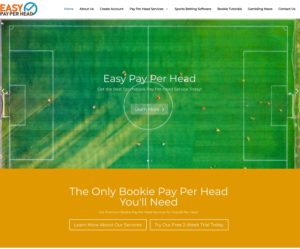 Easy Pay Per Head is one of the newest pay per head service providers in the market. Their product, they say, is the culmination of 40 years of combined experience of gambling and tech experts. They aim to provide affordable pay per head bookie services that can rival the best ones in the market. For our Easy Pay Per Head review, we'll take a look at this pph provider, from registration all the way to using the software both as a bookie and a player.
They started the idea of creating their own sports betting software for bookies back in 2016. They launched this year, and are so far growing in terms of bookie signups. Let's take a look at their software and see if they are worth the hype.
Easy Pay Per Head General Information
Inception: 2019
Software: DGS
Email: brian@easypayperhead.com
Telephone: live chat
Website: easypayperhead.com
Price Per Player: $5
Location: Costa Rica
Available Products and Services
Telephone Wagering: Yes
Racebook: Yes
Online Casino: Yes
Live Betting: Yes
Sports Betting: Yes
Live Casino: No
Private Website: yes
Honest and Accurate Easy Pay Per Head Reviews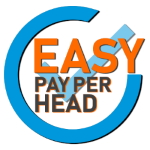 If there's one thing we like about new bookie pay per head providers, its that they tend to embrace the need for a smooth user experience. In the case of Easy Pay Per Head, this is evident as early as the registration process. It was as simple as creating an email address. We did not need to wait for someone to email or call us, nor were we required to call someone to set our site up. For novices, there is access to 24/7 customer support in case you cannot find what you need, although there is a support page as well. Not that you'll need it, since the layout of the site is pretty clean as well.
 The Easy Pay Per Head Bookie PPH Dashboard Review
The bulk of our bookie pay per head reviews centers on the software features. It is, after all, what makes or breaks a pay per head website. For this site, the whole dashboard is very easy on the eyes. Almost too easy, actually. While they could do with a little more work on the aesthetics, the functionality is pretty spot on for a premier pay per head provider. We were able to add and edit player profiles easily. We tinkered around the settings and found it very easy to tweak player limits. As for line management, their tools are also easy to use and there's practically no lag time. In addition, their report tools are very easy to configure to get the data we wanted.
The Player Website Interface Review
Again, they could do with a bit more design features, especially since this is the player side of the sportsbook. Most sportsbooks need to balance functionality and design. While they have the functionality taken are of, their aesthetics leave much to be desired. Design aspects aside, as a player, one could easily find the lines listed by the bookie, and placing bets was very easy to do as well.
Our Recommendation about EasyPayPerHead.com
For $5 per head, this is a very, very good deal. Their site works well, and is very easy to use. The site is a bit plain, but you'll easily get past that since they have all the features that the best pay per head companies have. They do have a free 2 week trial, so go on right ahead and experience their software for yourself.