HRWager.ag Sportsbook

HR Wager is a Costa-Rican based online sportsbook that has been in business since 2012. Our latest sportsbook reviews will feature them- and even if HR Wager also has an online casino, we will focus only on their sports betting services. This sportsbook piqued our interest as we were seeing a lot of mixed reviews about them online. Since it can be hard to find out which of these reviews are more accurate, we decided to just use the sportsbook ourselves. Here is our HR Wager Sportsbook Review.
Before we begin, we would like to preface this by saying that they are using the BetPhoenix sports betting platform. So if you are familiar with their software, then you may be able to understand our review better. While Bet Phoenix retained the HR Wager brand, there are still differences in their operations. But what makes HRWager.ag stand out from other sportsbooks? Let's take a look.
HRWager.ag General Information
Inception: 2012
Country: Costa Rica
Restrictions: None
Website: www.hrwager.ag
Telephone: 1-888-202-3773
Email: customerservice@hrwager.ag
Live Chat: Yes
Bonus: varies
HRWager.ag Features
Sports Betting
Live In-Game Betting
Racebook
Online Casino
Bonuses
Multiple payment options- with bitcoin
phone wagering
flexible dashboard viewing
HRWager.ag Banking Options and Payouts
HRWager offers the standard variety of deposit and payout options, and it includes BitCoin. Cryptocurrencies are gaining popularity in many casinos and sportsbooks as many people like the anonymity of using this as a payment option. They also have transfers, virtual wallets, and other payment channels. The limits vary for each payment option, and the fees for payouts will depend on how you want to get your winnings. In addition, requests for payouts are manually done. We actually had to get in touch with someone from customer service to help us. We would have wanted the autonomy to do things on our own as it works better and faster that way.
One thing we have noticed, is that they are missing out on a few things here. One, the limits are very low. Yes, you can pay a low deposit or a low wager, but deposits max out at $800. Payouts also have a $3,000 every 30 day limit. So if you are betting a lot of money, then maybe should look elsewhere. They seemed to have missed out on these marketing tips for sportsbook player retention. If you want to keep your players happy in your sportsbook, then your payout system should be a bit more flexible than this.
Honest and Accurate HRWager.ag Sportsbook Review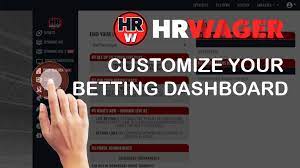 There were only two things that we appreciated in HRWager.ag. First, they have a real live chat service. Nowadays, it is very hard to talk to a real person behind customer service, as chatbots are becoming more common. Here, we were able to talk to someone, and the process was easy for us.
The second thing that we liked, is that you can customize your dashboard. This allows you to focus on only the things that keep you interested. If you like less content in your sportsbooks, then this can help clean your view. However, it could keep you out of other betting options that is available for you.
The whole software and sportsbook itself looks and works fine, if not a bit outdated. Their website is also incomplete. We wanted to see the people behind HRWager so we looked at their About Us section, and we found stock photos and pig latin. They have been running the sportsbook for such a long time and yet their website is incomplete. While it seems to be a minor issue, it speaks of the lack of attention to detail. If you want to have a sportsbook that is intuitive to your needs, like what a sportsbook pay per head can do, then I would look elsewhere.
Our Recommendation about HRWager.ag
While HRWAger.ag is good, and it has some pretty good features, they still fall short of what we expect to see in a sportsbook. There are so many online sportsbooks that offer bigger bonuses, higher limits, and more betting features. While the sportsbook runs well, it is very much average. There are a lot of other online sportsbooks available, and you can easily spend more in those. So, if you find another sportsbook with better limits and rules, then go for it, and don't feel bad for having to leave this sportsbook behind.
Get The Best Sports Betting Software Here!