IDSCA Bookie PPH Service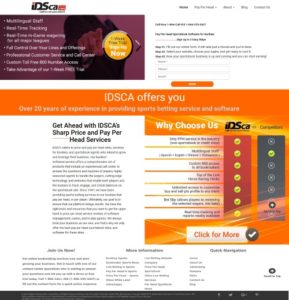 IDSCA or International Data Solutions is a revolutionary Pay Per Head Sportsbook Services company based out of Costa Rica. IDSCA.com is one of the older Sportsbook Pay Per Head Provider in the business and has been around since 1997.  Our IDSCA Bookie Pay Per Head Review will discuss the pros and cons of using their Sportsbook Software.
In addition, our review of IDSCA.com will also cover their gambling products, customer service and prices.  In order to create a detailed review, our PPH experts used their service for over three months with real players.
IDSCA.com uses the ASI sports betting platform, the iPlay Mobile Betting Interface and the In-Play Live Betting Software.  In addition, they have a small army of programmers, technician and customer service clerks to provide the best service possible.
IDSCA General Information
Inception: 1997
Software: ASI
Email: info@idsca.com
Telephone: 1-866-225-5437
Website:idsca.com
Price Per Player: $23
Location: Costa Rica
Available Products and Services
Telephone Wagering: Yes
Racebook: Yes
Online Casino: Yes
Live Betting: Yes
Sports Betting: Yes
Live Casino: No
Private Website: yes
Honest and Accurate IDSCA Bookie Pay Per Head Reviews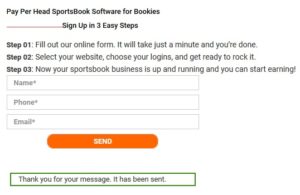 Opening an account with IDSCA.com  was a not as easy as we thought it would be.  This is because once you submit your registration form, you have to wait for them to contact you. In the end, we still had to call them, answer several questions and send them money before we could open an account.
Even though the IDSCA sale representative was very thorough and knowledgeable about their PPH Service, the process should be automated. This is because creating a PPH account is really just opening an agent account in the ASI platform.  Thus, it can easily be automated as several of their competitors have already done so.
 The IDSCA Bookie PPH Dashboard Review

In general, we thought that they have a good looking dashboard that was easy to use and understand. Unlike other companies, they do not try to clutter their dashboard with a lot of secondary information. Managing your players is very easy to do with several options from setting betting limits to gambling options.
In addition, they have several different types of reports to help manage your sports betting operation. One thing we did not like about the agent interface was how you had to go sometimes click on the back button instead of clicking on the menu.
The Player Website Interface Review
Overall, we were not impressed with the website for the players as it had a generic look to it.  However, our players had no problems placing their bets using a PC or their phone. The only thing we can say is that even though it was not an impressive website, it did exactly what was expected of it.
Our Recommendation about IDSCA.com
The sports betting software and the customer service is decent but nothing that stands out.  We would not use their PPH Services because the cost per player is ridiculously high for a Sportsbook PPH.  10 years ago the price would have been right but today, the average PPH price per player is around $10-$15.