WagerWeb Sportsbook

In our latest in sportsbook reviews, we will be taking a look at WagerWeb.eu, a sportsbook that has been requested quite frequently by our readers. WagerWeb is a pretty popular sportsbook, and they have been in the industry since the 90's, so their staying power must prove that their sportsbook is one of the best. We'll take a closer look at their sports betting software in our WagerWeb sportsbook review.
The WagerWeb network actually offers more than just a sportsbook. They also offer an online casino, esports, and horse racing. There is no bookie pay per head service, which is a very popular and lucrative service nowadays. But for this review, we will only be looking at their sportsbook.
Looking online, you will see some old feedback that is not favorable towards the company, but there are no recent ones. They are, however, widely mentioned in sports betting circles for promotions and payouts.
WagerWeb General Information
Inception: 1994
Country: Costa Rica
Restrictions: None
Website: www.wagerweb.eu
Telephone: 1-800-397-4319
Email: csd@wagerweb.com
Live Chat: Yes
Bonus: Yes
Wagerweb Features
Sports Betting
Live In-Game Betting
Racebook
Online Casino
Live Dealer Casino
Phone wagering
eSports
Mobile Betting
WagerWeb Banking Options and Payouts
WagerWeb offers a pretty standard menu of banking options for deposits and payouts. They also transact using cryptocurrency, and even offer a special payout schedule for those who exclusively deal in cryptocurrency. They also offer a wide variety of promotions as well as bonuses in their sportsbook, from a generous welcome bonus to referral bonuses. There are, of course, terms to these promotions. You may have to look a bit to find the terms of these promotions, but they are available in the website.
Honest and Accurate WagerWeb Sportsbook Review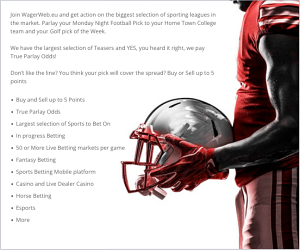 Signing up requires you to give them your phone number, email, a username, and a password. And your address, and few other items that makes up for a detailed sign up form. Both your phone and email needs to be verified as well. While the security measures are appreciated, many bettors may not feel comfortable giving out their information. Especially when other sportsbooks do not ask for too much confidential information. When learning how to become a bookie, you need to know your player preferences, and the need for anonymity may be one of them.
Deposits also take time and a little effort. Some methods have low limits, you if you are a high roller, you may also have to make multiple deposits. You will also pay for transfer fees, but you get them waived if you are transferring a higher amount. Some sportsbooks waive transfers for deposits and not payouts, but here its different.
Our Recommendation about WagerWeb
WagerWeb is safe, secure, and has the usual items that you would look for in a sportsbook. It is, however, quite hard for high rollers to use, given all the rules and limits. So if you are into sports betting, you can go for them, but there are a lot of sportsbooks that offer competitive bonuses, easier registration, and easier payment options.
Get the Best Sports Betting Software with the Best Bookie Software