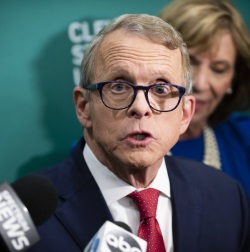 According to gambling industry news websites, at least a dozen states will legalize sports betting next year. Furthermore, another 5 states where sport betting is currently legal will also have function sportsbooks by then. In addition, according to Ohio Governor-elect Mike DeWine, Sports Betting is coming to Ohio as well.
During an interview with News 5, DeWine said it is just a matter of time before sport betting is available. However, he said before it can become a reality, it is important to have the proper regulations.  Thus, the Ohio state legislature is currently working on this first step.  Unfortunately, so far there has not been much progress.
Governor-elect said that he is not a "big fan of betting but it is a reality and Ohio voters have made that decision".  Thus, DeWine acknowledges it is important for Ohio to do it correctly.  Furthermore, he said he will work with the state legislature when he becomes governor to control and regulate sports betting.
Sports Betting Expanding in the United States
PricePerPlayer.com, an industry leader in gambling software estimates that within 2 years, 24 states could be offering legal sports betting. Ohio is just one of several steps working towards that goal.  In fact, just last month the state of Ohio gave approval for sports betting at Rivers Casino.  At the moment, they are building a temporary sportsbook and expect it to open this December.
Legislative leaders in Ohio are still in opposition to sports betting; however, they realize that Ohioans like to gamble.
One case study shows that New Yorkers go to New Jersey and Pennsylvania to gamble.  In addition, of FanDuel in New Jersey says 9% customers come from New York and 4% from Pennsylvania. The Ohio Legislative and DeWine know that residents of Ohio go to Pennsylvania to gamble.  Thus, in order to keep them safe and keep the money within the state, sports betting will become legal in Ohio.