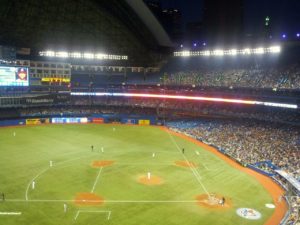 The Toronto Blue Jays have enjoyed a sweep of the Nationals the past weekend and will be going against the Atlanta Braves Tuesday night. The Blue Jays will be hosting the Braves, another National League East team on June 19, at 7:07 p.m. ET, at the Rogers Centre.
The Blue Jays have won seven out of the last ten games, and in their last seven home games, have a 7-0 streak. One concern for the Blue Jays is if Jaime Garcia can pull himself together and prevent a repeat of his performance in their loss to the Rays last Tuesday. Garcia gave up four runs on four hits in five-plus innings and issued four free passes and made strike out four that night. In addition to that, when Wilson Ramos, during the third inning, tagged him for a two-run homer he gave the first two runners the chance to reach in the sixth and was able to score after he left. This earned Garcia an unsightly 1.56 WHIP and 5.71 ERA.
Four out of five overall starts of Garcia has been dropped by the Blue Jays. They are also winless with 0-4 when he allowed five and above runs in their most recent game, in his last four outings.
Meanwhile, the Braves have a 6-2 record in their previous eight interleague road games and in their last overall 6 games, have a 5-1 record. In their previous game against the Mets where they won 2-0, Michael Soroka only gave up one hit over six and one third shutout innings. He struck out four, walked one and was throwing 44 out of his 77 pitches in strikes. The 20-year-old Brave just recently came in from time off spent recovering from a shoulder injury that took him out for a month, and it is expected that he will be able to play better in his next start.
In this series, The Braves have won five out of six of their games against the Blue Jays in Toronto, as well as 16 out of the last 23 games.
And as per the best sportsbook pay per head sites the Braves are listed -115 as a favorite, and at least half of the betting tickets to date are wagering for the Blue Jays to win on the moneyline. There is still time for this information to change, so visit your sportsbook to check for updates.