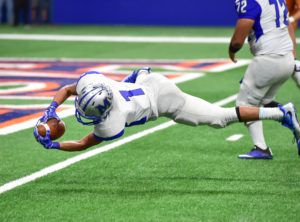 The 2018 NFL Season is underway. Everyone who has a great sportsbook pay per head at the ready are now getting a lot of wagers on one of the most popular sports leagues in the US. The key to earning money from betting on sports is really about making smart and informed picks. You should not always go with what's popular, or who is always winning. There are a lot of factors that will guide you to making the best bets you can.
As for the NFL, the first week of the season is starting at a great and exciting pace. Let's take a look at the games for the week, and look at the odds offered, as well as the betting trends of the teams.
NFL Betting: Week 1 Games
First off, is the game between the Atlanta Falcons vs the Philadelphia Eagles. The Eagles are at -1.5, mostly because of the announcement that WR Alshon Jeffery and QB Carson Wentz will be out of that game. The Falcons are clearly the favorite with over 65% of the money that was wagered was for the Falcons favor. But one must not forget that the Eagles are made up of the same people who won the Super Bowl in the previous season. The Eagles are at the highest value bet for this week – against the spread, with -1.5 as a home favorite.
Second, The Cleveland Browns vs. The Pittsburgh Steelers. The Steelers are at a -4 strong line. There are so many changes with both teams – contracts still not final, roster overhauls, and other issues. For this game, there are a lot of people who are very confident to bet on the Steelers.
Third, the Buffalo Bills versus the Baltimore Ravens. The Ravens are at -7.5, and are one of the most popular bets in this week, with an overwhelmingly large amount of people betting on the Ravens. Not only that, but the Ravens are also a moneyline favorite this week at -340.
Fourth, the Indianapolis Colts versus the Cincinnati Bengals. The Bengals are practically the underdogs this week with +2.5. A large majority of bettors are betting on them for this game.
Last, the LA Rams versus the Oakland Raiders. The Rams are at -4. There are rumors that the Raiders will have one of the worst defense in the NFL. Plus, you have the huge improvement in the Rams' offense this year. This game will be very exciting to watch.