This College Basketball season has been far from predictable, with the top teams losing at historic rates. It's been so chaotic that Oklahoma was able to hold on to the #1 spot in the AP Poll despite losing at Iowa State last week (they did win a tough game at Baylor as well). Our College Basketball Betting – 2016 Top 25 Update will give you all of the info you need for your next bet!
As with many other weeks this year, the teams ranked in the Top Ten were not able to live up to expectations. In addition, seven of the top eight teams in last week's rankings lost outright.  The exception is that only #2 North Carolina avoiding an upset.
Losses have become so commonplace now that these losses are not dropping teams down in the polls as much as they would in previous seasons.
For example, Kansas was blown out by 19 points at Oklahoma State, but only moved down one spot from #3 to #4. The top two teams in the Big East (Villanova and Xavier) lost outright on their home court, but only fell two spots each and are both not yet in danger of falling out of the Top Ten. The lack of quality teams is really what is keeping these teams ranked high despite the losses.
So what does this mean for basketball bettors?
We have to remember that the polls are the biggest influential factor in terms of public perception, and public perception is a major factor the online sportsbooks use when determining the pointspreads on the games.
Of the teams currently ranked in the top ten, none of the "big name" schools are doing great against the pointspread.  This is despite having very good straight up records which is making sports handicappers wonder about the rest of the season. North Carolina is 18-2 straight up, but owns a losing 7-12-1 ATS record. Oklahoma and Kansas are just one game above .500 at the betting window, showing virtually no profit. Villanova and Maryland are actually showing net losses overall this season.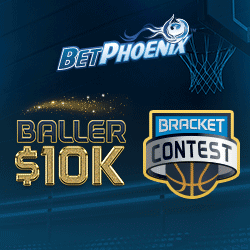 The teams ranked in the top ten that are not considered to be traditional powerhouses are doing pretty well at the betting window. Iowa has soared up to #3 this week (up six spots from last week's poll) and have also done well at the betting window going 10-7 ATS this year.
West Virginia and Providence are even better, going 11-6 ATS and 12-8 ATS respectively. Xavier has done the best against the spread amongst the top ten teams, going 13-7 ATS for a respectable +5.3 units of profit (all records accurate entering Friday's action).
There are a number of big matchups this weekend for those who bet on college basketball, highlighted by a marquee contest of Kentucky visiting Kansas on Saturday night. Wildcats have dropped to #20 in the polls, but they'll take the court with an identical 16-4 record as the Jayhawks. It's a big unusual for high-profile non-conference matchups this time of the year, and unlike early non-conference games these teams are already in midseason form.
This game will be a big indication of where these two teams are heading, with the loser of this game taking a big hit in momentum and confidence heading into February.
We'll be back next week with another College Basketball betting update.